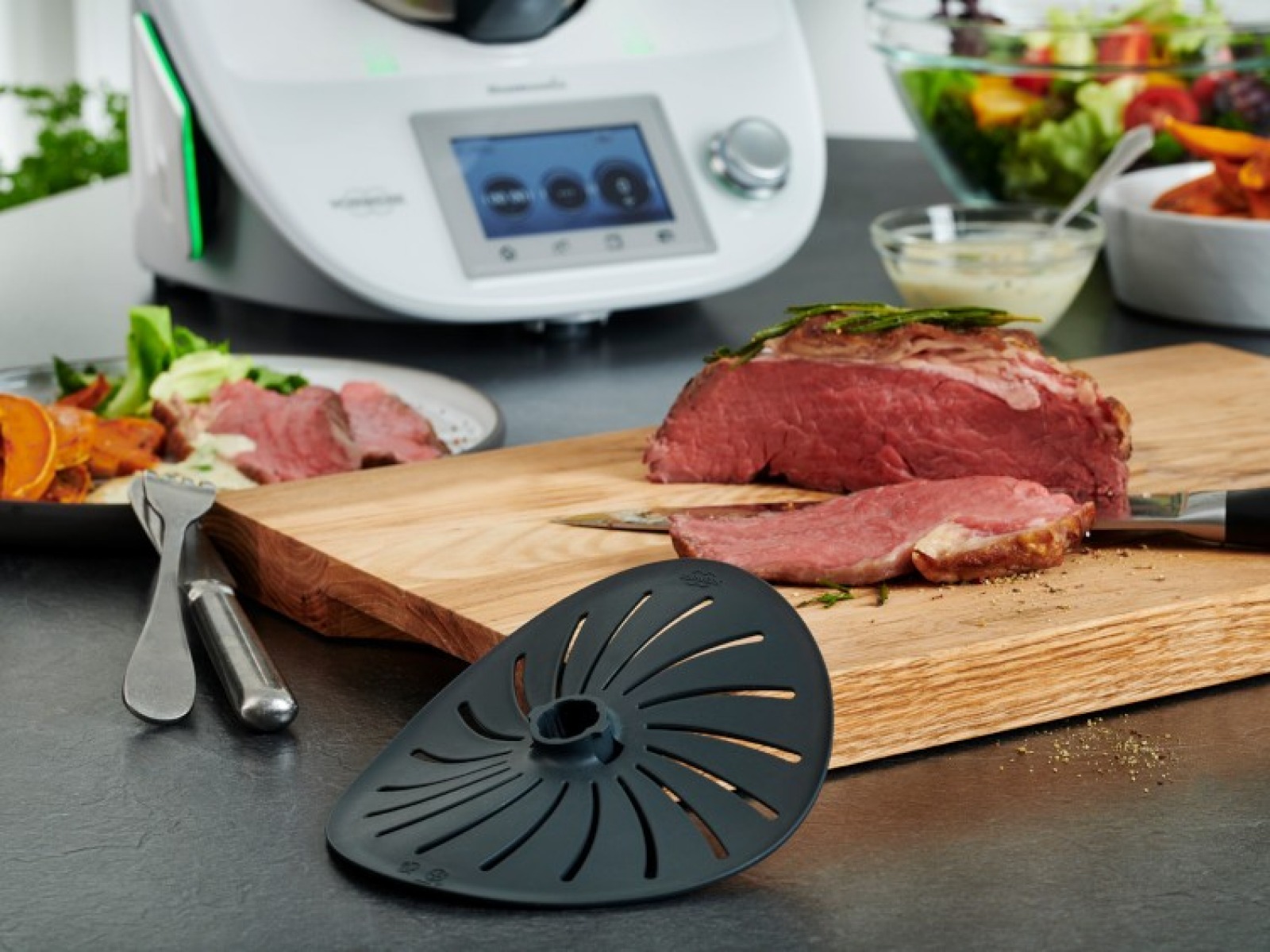 You can cook Sous-vide recipes in your TM5 as well. There are some important measures to keep in mind before you start using your Thermomix® TM5 for slow cooking in the Sous-vide style. you need to use a vacuum sealer and a bag that would:
- be suitable for food and vacuum cooking
- be resistant to a minimum of 85°C
- be stable for up to 8 hours of cooking
- be no more than 20*30 cm
- be BPA and PVC free
Alternative to a vacuum sealer: You can lower a heat-resistant bag suitable for Sous-vide cooking with food in a bowl of water, just below its sealing point. The water shall create pressure on the bag forcing the air out. Seal the bag and then remove it from the water.
As to protect the Sous-vide bag from the knives of the Thermomix®, we recommend the use of the Blade cover, which fits perfectly in the TM5 mixing bowl.
Before using the Blade cover with the TM5 we recommend that you read the following article:
What should I avoid while using the Blade Cover for Sous-vide or slow cooking with my Thermomix TM6 and TM5?
The Thermomix® TM5 does not have preconfigured Sous-vide mode, that is why you have to enter the cooking settings manually.
In case you use a recipe with guided cooking, follow the instructions on the screen. If you are working on your own recipes, the following table may be helpful in deciding on the proper cooking time.
| | | | | | | |
| --- | --- | --- | --- | --- | --- | --- |
| products | Total amount | Pieces/size/thickness | Water in g. | Bags | Temp. | Time |
| Beef fillet | 720 - 800 g | 4 x each 180 - 200 g, 3 cm thick | 1400 g | 2 | 50 °C | 60 Min. |
| Duck breast | 500 - 600 g | 2 × each 250 - 300 g, 2,5 - 3 cm thick | 1200 g | 2 | 60 °C | 60 Min. |
| Fish, lean (monkfish/hake) | 800 g | 4 × each 200 g, 2 cm thick | 1500 g | 2 | 55 °C | 60 Min. |
| Shrimps, peeled | 350 -380 g | 24 Piece each 15 g | 1500 g | 2 | 60 °C | 20 Min. |
| Carrots | 300 g | 15 cm long, Ø 2 cm | 1600 g | 1 | 85 °C | 45 Min. |
| Green beans, fresh | 300 g | normal or flat | 1900 g | 1 | 85 °C | 40 Min. |
| Green asparagus | 500 g | Ø 1,5 cm | 1500 g | 1-2 | 80 °C | 10 Min |